Ecological and Sustainable
Italian parquet workshops offers a valid ecological alternative to traditional flooring. Our raw material grows only in controlled and FSC® certified forests which establishes the rules for proper forest management, in order to protect the environment of wildlife, local populations and workers.
Specifically, our bamboo is therefore an ecological and sustainable product harvested only in highly controlled forests.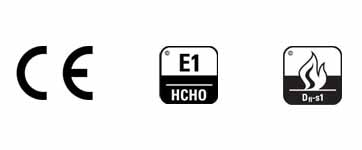 LAMELLE PROCESSING
Depending on the type of bamboo flooring to be obtained, the manufacturing process varies, however the initial phase is identical for all of them: it is the internal and external decortication of the bamboo stems, through the reduction into rods, which will come later. assembled in a different way, according to the parquet you want to obtain.
The way to obtain the typology with Wide Knot e Tight knot it is similar: some external and internal millimeters are eliminated from the rods and only the central part is used, only in this way can the gluing between them be perfect. This operation is absolutely necessary, because the internal and external lateral areas of the bars are not very suitable for treatment with glue and finishing.
To obtain the type with Classic grain the bamboo filament is further reduced for a uniform and compact pressing, even more resistant to impact and compression. This type of processing gives the floor noble and warm aesthetic characteristics equal to the most prestigious woods.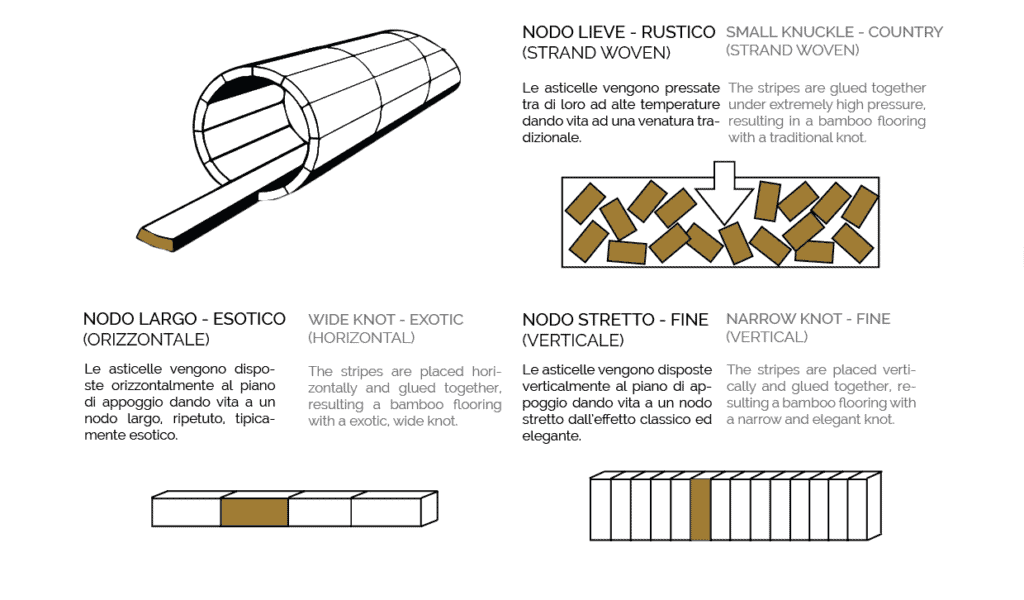 1. ASSEMBLY OF REEDS
Following its creation, the obtained lamella will be glued on a Finnish birch plywood support. Italian parquet workshops has chosen to use only adhesives strictly non-toxic and with minimal release of formaldehyde, in compliance with the E1 standard currently in force in Europe.
Male / female joints are therefore created along the edges, so that the planks can fit together correctly during installation; this will go even further to facilitate implementation.
2. CUSTOM WORKS
At this point the parquet structure will be ready; our craftsmen they will then be able to work the surface, modifying the aesthetics of the floor according to the different processes required.
Brushed, hand planed and sawn are the different types of processing that give unique aspects to our floors.
To learn more about what our processes consist of, you can view the following articles:
3. ECOLOGICAL FINISHES
All of our oak and bamboo parquet use water-based paint of ITALIAN production highly resistant, free of harmful emissions, with machinery built in Italy.
Officine Italiane Parquet therefore offers the possibility to choose a 100% ecological finish giving you the opportunity to be able to lay a parquet in your homes totally natural, organic and free of volatile particles, therefore completely hypoallergenic and antibacterial.
In addition to water-based finishes, you can choose with complete peace of mind even those with oil or oil-wax as they are always strictly natural and organic.
With our finishes we can therefore guarantee you a parquet:
whose dry residue on the surface will be made from 100% water-based paints, oils and natural waxes not harmful to humans, animals or plants;
resistant to water, liquids, dirt and stains;
with an extremely natural effect as all of our products prevent light reflection.